Creating a brewery hero wall to honour Innis & Gunn investors
Innis & Gunn Brewing Co. asked us to help them create a special wall at their brewery in Perthshire, to honour over 1100+ investors who have helped them purchase, and develop their very first brewery.
The barrel store was the chosen spot to build the wall design – the pride and place of the brewery site as it is the home of the company's most exciting beer innovations. We then worked with our suppliers to create a raised timber frame helping level the surface on the barrel store for the artwork to be fitted.
The finished artwork was created from 24 individual panels of aluminium coated resin board and digitally printed before being fitted like a large jigsaw puzzle. The typographic design also eluded to the use of the building through printed wood texture 'staves' referencing the beer barrels which are present within the building.
The metal door shutters were then stencilled by our friends at RECOAT with Innis & Gunn's self-penned quote "Beer is like life itself. Its moments are best savoured with those who join you on the journey".
On Saturday 24th June, over 140 investors then accepted an invitation from Innis & Gunn founder Dougal Gunn Sharp, to visit the Brewery to see their very own name up on the wall of fame.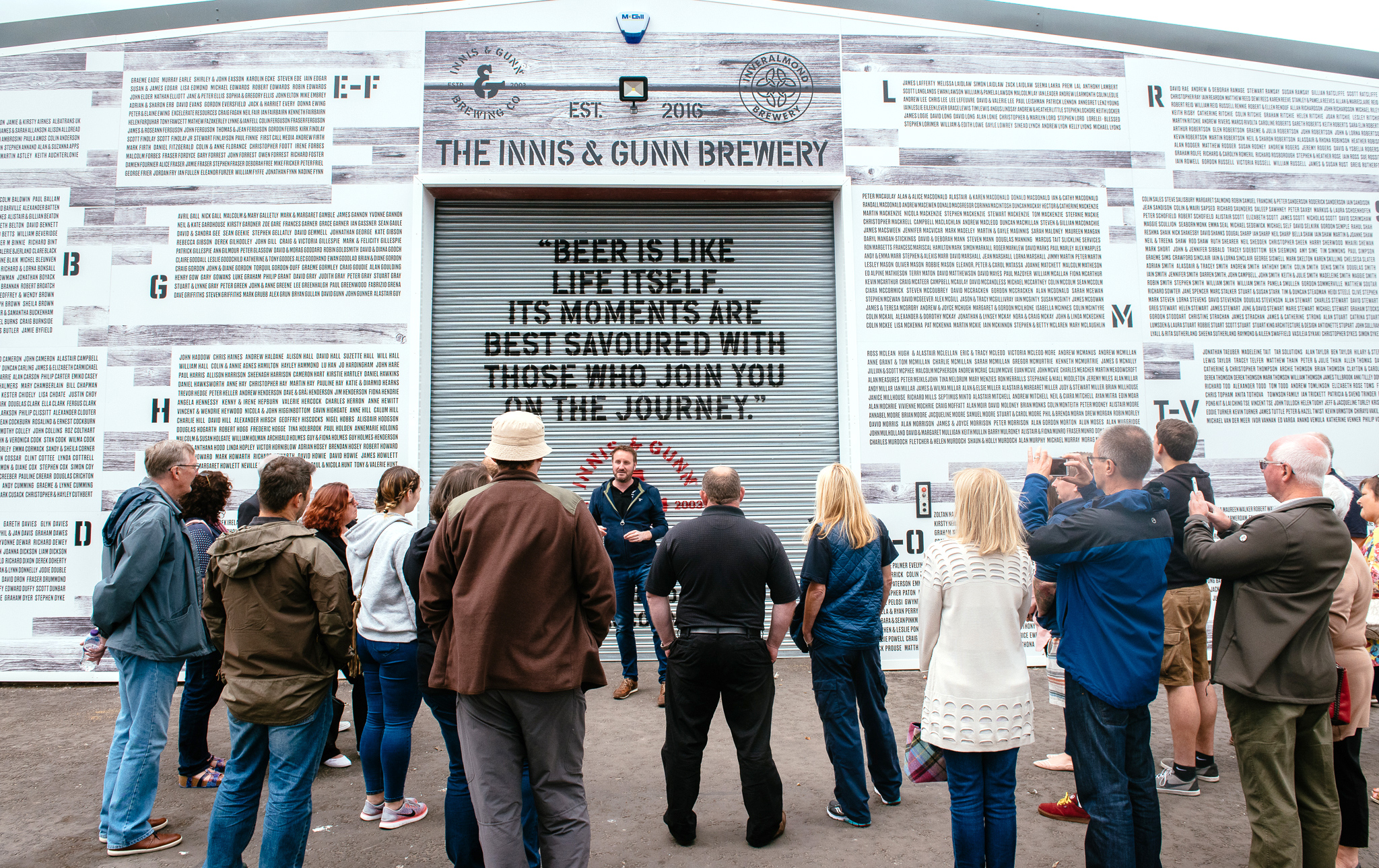 The day included an exclusive Brewery Tour with some of the top brewing team, and a sampling session in the Barrel Store. A photographer was also on hand to capture them next to their name on the wall.
—
Client: Innis & Gunn Brewing Co
Role: Design & Production Management
Discipline: Environmental
Panel Production/Installation: HOBBS
Stencil Graphics: RECOAT Workshops
Photography: Carlo Paloni
For more information about this, or other projects, drop us a line.